4205 W. Emerald | Boise, ID 83706 • 208-342-3013 •
Boise Home Health Care Services
Services and Benefits in Boise, ID
Medicaid/Blue Cross Medicaid Homebased Services
VA Benefits: Aid & Attendance & Homemaker Benefit
A Caring Hand offers a variety of disability and elderly home care services in Boise. We provide companionship, CNA's, personal care services and respite care.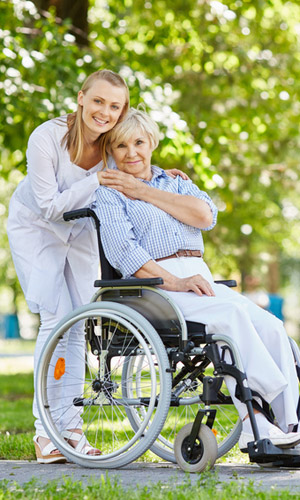 Personal Care Services
Light housekeeping
Meal preparation
Assistance with eating
Shopping and errands
Transportation to appointments
Medication reminders
Ambulation Assistance
Bathing and personal hygiene
Dressing
Aid in bathroom usage
24-hour live-in-care
Overnight care
Home safety evaluations
Post Hospital Care
Additional Services
Medicaid Eligibility
Respite Grants
Life Settlements
Long-term care Insurance
Elderly Care
We want to take care of your loved one so that staying home is still an option. Elderly home care in Boise from A Caring Hand enables your loved one to stay independent with the help of an assistant who performs light housekeeping, bathing, dressing, meal preparation and more. If you have a loved one who needs disability or senior care in Boise, call us to get started.
Disabled Care
We can provide CNA care and disability assistance in Boise for people in their homes, offering the necessary assistance to maintain a safe and independent lifestyle. People with physical or cognitive disabilities can experience problems with independent living, so we are here to assistant them to maintain their independence. Our home care assistance services help disabled individuals in Boise with the tasks related to daily living. Contact us to get started.
Caregiver
Our senior caregivers in Boise are experienced and credentialed personal care attendants who provide non-medical care, and specialize in caring for the elderly or disabled. We are on call 24 hours a day, seven days a week to provide the most efficient and timeliest services possible. Contact us to learn more about our Boise elderly and disability home caregivers.
Incontinence Care
Incontinence is a subject that is not always easy to discuss with a loved one. Our caregivers are trained to discuss and assist with the loss of bladder or bowel control. We can help with toileting, changing attends, bowl care and personal hygiene. Do you need help or have questions about incontinence? Please contact us right away so we can extend the help you deserve.
Disabled Children Care
We realize that children living with disabilities or special needs have unique care requirements. Our professional caregivers provide respite care as well as child care including, but not limited to bathing and dressing. Our caregivers give them the care they need and the support they deserve. Call us today to get started.
Senior Care Resources
A Caring Hand also offers companions and hospital sitters to give you loved one attention to promote safety and prevent loneliness, during a hospital stay or when family is unavailable.
Medicaid/Blue Cross Medicaid Homebased Services
A Caring Hand is a Medicaid Service Provider.
Services Provided:
Personal Cares
Homemaker
Respite
Companion
Chore Service
RN Services- Pediatrics
LPN Services- Pediatrics
Consumer Direct- Goals, Personal Cares
Idaho Medicaid is a medical insurance program that serves as a safety net for people who have low incomes, a disability, or are elderly.
Idaho offers four different plans to meet the individual needs of participants.
Standard

Provides only federally mandated benefits. All participants have the option to select this Standard Plan.

Basic

Benefits include preventive as well as medical, dental, and vision services for participants who meet income standards.

Enhanced

Benefits include Basic Plan benefits plus long-term, developmental disability, and mental health services and supports for participants who are eligible due to disabilities or have special health needs.

Medicare

Medicaid Coordinated – For participants who are eligible and enrolled in both Medicare and Medicaid. This plan includes the same benefits identified in the Enhanced Plan but include an option to receive services through a Medicare Advantage Plan of their choice
A Caring Hand services clients who qualify for the Enhanced Plan. For more information about applying and what you will need please call us.
208-736-4903
VA Benefits: Aid & Attendance & Homemaker Benefit
Wartime veterans and their surviving spouses, 65 years and older, may be entitled to a tax-free benefit called Aid and Attendance provided by the Department of Veteran Affairs.
The Benefit, part of the Veterans Benefit Program, is designed to provide financial aid to help offset the cost of long-term care for those who need assistance with the daily activities of living such as bathing, dressing, eating, toileting, and transferring.
American Veterans Aid, a private company, is dedicated to helping war era veterans and their surviving spouses receive this Benefit they so deserve.
A Homemaker or Home Health Aide is a trained person who can come to a Veteran's home and help the Veteran take care of himself and perform his daily activities. Homemakers and Home Health Aides are not nurses, but they are supervised by a registered nurse who will help assess the Veteran's daily living needs. This program is for Veterans who need skilled services, case management, and help with activities of daily living. Examples include help with bathing, dressing, fixing meals, or taking medicines. This program is also for Veterans who are isolated or their caregiver is experiencing burden. Homemaker and Home Health Aide services can be used in combination with other Home and Community Based Services.
Homemaker Home Health Aides work for an organization that has a contract with VA. A Homemaker or Home Health Aide can be used as a part of an alternative to nursing home care, and as a way to get Respite Care at home for Veterans and their family caregiver. The services of a Homemaker or Home Health Aide can help Veterans remain living in their own home and can serve Veterans of any age.
A Caring Hand is contracted with the VA to provide Home Health Aids to Veterans who qualify. For more information about how to get these benefits please contact A Caring Hand. 208-736-4903
A Caring Hand offers special rates for 12 and 24 hour shifts. We also accept Long Term Care Insurance. Please call us for a quote.
Connect
---
Location
---
4205 W. Emerald
Boise, ID 83706
Reach Out
---
© 2018 A Caring Hand | Powered by Next Level Solutions